Foundation Repair Contractors Serving Decatur, Alabama
If you're looking for quality foundation repair services in Decatur and the nearby areas, Supportworks is here to help. Supportworks dealers are highly trained and experienced foundation contractors who provide a variety of foundation repair services. We use a complete line of patented products that are provide to be effective and long lasting solutions to all types of foundation problems.
Solutions for all types of foundation problems
Keeping the foundation in good condition is important for every homeowner. When you see an issue with your foundation, it's time to get a professional inspection and repair from your local Supportworks dealer. We will carefully evaluate your home and recommend a customized solution for your specific problems.
Foundation problems that we repair include bowing, buckling and cracked foundation walls, sinking, settling, and cracked floors, sticking windows and doors, and sagging floors above the crawl space. We have products specifically designed to repair each of these problems and more, and we can help you stabilize your foundation and restore your home's quality and value.
Quality foundation repair products in Decatur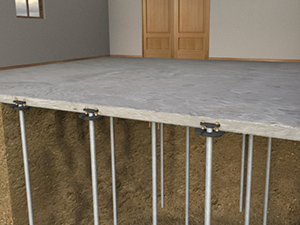 Foundation piers are used to raise and level settling concrete slabs, preventing further damage.
Supportworks dealers use high quality, patented products to repair all types of foundation problems. Each of our products is designed to solve specific problems in the home, and depending on the situation one product or a combination of products will be used to repair your foundation. Our solutions are tested and proven to be effective and durable. Our foundation products include:
Foundation pier systems
Wall anchors
Wall stabilization systems
Crawl space support posts
Shotcrete and cellular concrete
If you're interested in foundation repair services for your home in Decatur, call your local Supportworks dealer today. We offer free estimates on all our work!